Flipping the blackboard
Staying engaged with students and alumni during lockdown
A month ago, if you had asked any of Medha's 80-odd facilitators what their favorite part of the job is, each one of them would have replied 'being in the classroom!' As Ajay, a Student Relationship Manager at the Government Polytechnic in Azamgarh puts it, 'My commute to some of the campuses can be as long as three hours and it is tiring, but somehow the minute I step into the classroom and hear my students welcome me, I am back in the game. All batteries charged!'
No points for guessing where this story is headed! As of March 25th, our students went home to stay safe and we went back to the drawing board to figure out how to recreate the unique classroom experience, without the room.
To complicate matters, many of Medha's students are in their final year and are preparing to enter the job market. For these soon-to-be graduates, the world is now beset with greater uncertainty. Over the past few weeks, their unyielding optimism inspired us to double down on our efforts to better prepare them for the challenges ahead.
Here's a taste of what we have learned about how to stay engaged and add value to young learners and professionals during COVID. We hope you find them useful and relevant to your work during this challenging time. 
1.  TikTok your way to them
While all our students are eager to use this time to enhance their employability skills – not all of them have access to uninterrupted internet or personal smartphones. For these students, we created some anytime/anywhere fun but educational content using TikTok. This would have been a daunting task for a single facilitator so we simplified it by drawing on the collective talent of the whole team, through an organization-wide 'Let's make learning go viral' competition.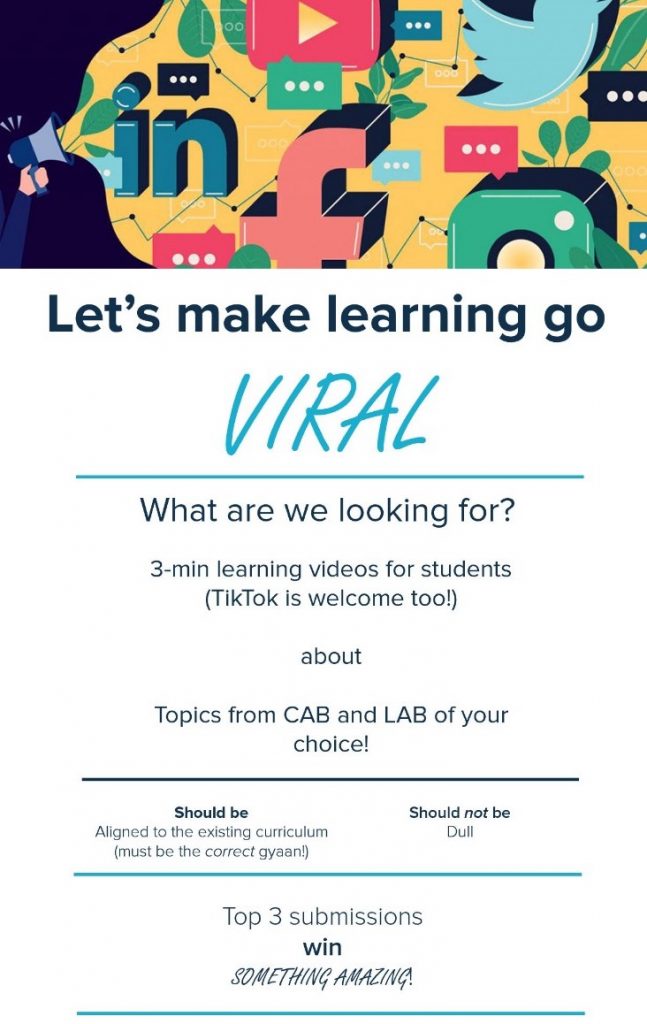 2. Take advantage of all the experts and mentors working from home
One of the best ways to improve career awareness is to interact with an industry professional. But that's easier said than done – most professionals simply do not have the time to visit a campus on a weekday for a face-to-face session with students. With the lockdown, this perennial challenge of aligning college schedules with a professional's work hours has become easier. Our employer partners were more than happy to schedule virtual career talks into their work-from-home schedules. This has allowed our students to connect with professionals from fields as diverse as chartered accountancy, media, and social development!
3. Think beyond your usual 'learning objectives'
Our students and alumni also inspired us to go beyond our usual gyaan (knowledge or hot-air depending on the speaker) – 'build your skills, explore career options, find something you like, get started!' – and create opportunities for the alumni community to come together, and build resilience. One example is an Instagram campaign launched by our alumni – #DilSeJudo, inviting students to share their lockdown stories. Hearing from our alumni enabled us to create learning opportunities for them that we didn't even know were 'in demand'— an online ghazal writing session, for example.
4. Nudge your students out of their comfort zones
Not all the wheels of change have to be built from scratch, some can just be sourced from other fine wheel-makers out there! Platforms like Internshala and Meeत are offering exciting work-from-home internships. The competition for them, however, is fierce, and we learned that just entering the hiring process provides students a brilliant opportunity to test their skills against industry standards. As Tanya and Nandini from Mahatama Gandhi Kashi Vidyapeeth, Varanasi would tell you. While they were hesitant to apply for English content writing internships during college, the available time during the lockdown gave them space and courage to take up the challenge! 
5. Most importantly, be there when they need you!
In response to one of the many reminders for 'online assignments and classes', we also received a reply that we didn't expect. Manoj from Rewari, Haryana messaged his facilitator informing her that now that he was home, he needed to work on his family's farm and would not be able to attend an online class before 7pm. This simple text drove home the most important 'pedagogy technique' of them all – put your students' needs first and be available to them when they need you.  
At this hour, we must be prepared to not only teach but also to unlearn. Unlearn the way in which we have been 'educating' all these years and our tried and tested way of building skills, confidence, and connections. The pace at which we have been 'flipping the blackboard.'