Meet Bihar's young entrepreneurs!
Winners of eYouthscape Start-Up Bihar lay the ground for their winning business plans.
Medha conducted eYouthscape Start-Up Bihar, a virtual competition for aspiring entrepreneurs, between September 2020 and December 2020 in collaboration with Patna University, Atal Incubation Centre Bihar Vidyapith Foundation, and Indian Institute of Enterprise & Leadership Development.
Medha has been working with thousands of youth over the last couple of years to support them in building relevant life & employability skills and pursue careers of their choice. Since the onset of the Covid-19 pandemic and the subsequent economic crisis, we realized that along with providing placement support to youth, it is also important to explore self-employment as a pathway to a sustainable livelihood.
eYouthscape Bihar was Medha's initiative to provide a virtual platform for youth to explore self-employment avenues. It aimed to support them by providing seed funding and mentorship that helps shape their ideas and launch or scale up their ventures. With this and more such competitions, we hope to create a conducive entrepreneurship ecosystem for youth to explore and pursue non-traditional career pathways.
We received more than 1,200 online applications in the first round!
After rigorous scrutiny, 62 applicants were selected for the second round – to submit their business plans using our online 'Business Model Canvas' form. The students were given detailed information on how to build and submit their business plans. The incubation mentors and the idea shortlisting committee selected 24 students for the final round, in which they pitched their ideas in front of a jury. Jury members selected the top 10 students with the most innovative ideas and solid business plans, who advanced to the final due diligence stage.
The top three winning ideas received seed funding and sponsorship for their business ideas. The remaining seven finalists received a smartphone each. All 10 finalists will receive incubation and mentorship support during their entrepreneurship journey.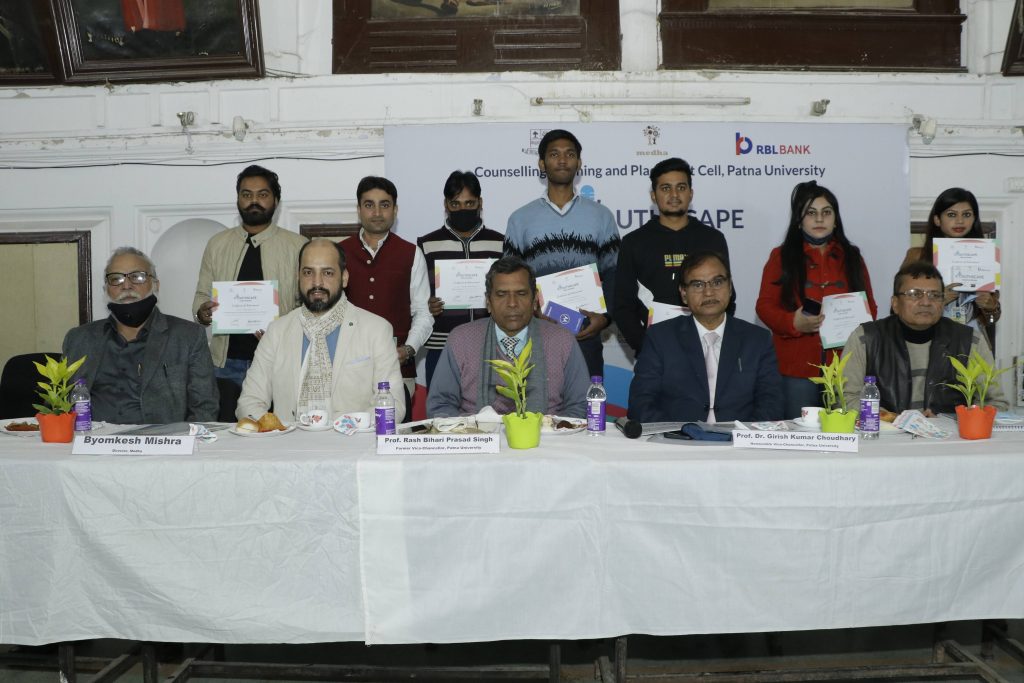 Scaling up his mushroom business – the winning idea
Manmohan Singh, the competition winner, is currently pursuing his MBA from Magadh University in Bihar. His uncle and cousins started an agricultural business in Ataon, a small village in Buxar district in Bihar. ​His focus is on mushroom (oyster) farming, and he wants to encourage more farmers to take up mushroom cultivation. He provides training to interested farmers on how to use specific tools and equips them with knowledge of the processes involved in mushroom farming. He also sells mushroom seeds and sponge to farmers.​ He is now connected to over 121 farmers and supports them in developing their networks and establishing a good market connection. Manmohan has also developed an e-commerce website, which sells authentic agricultural products. ​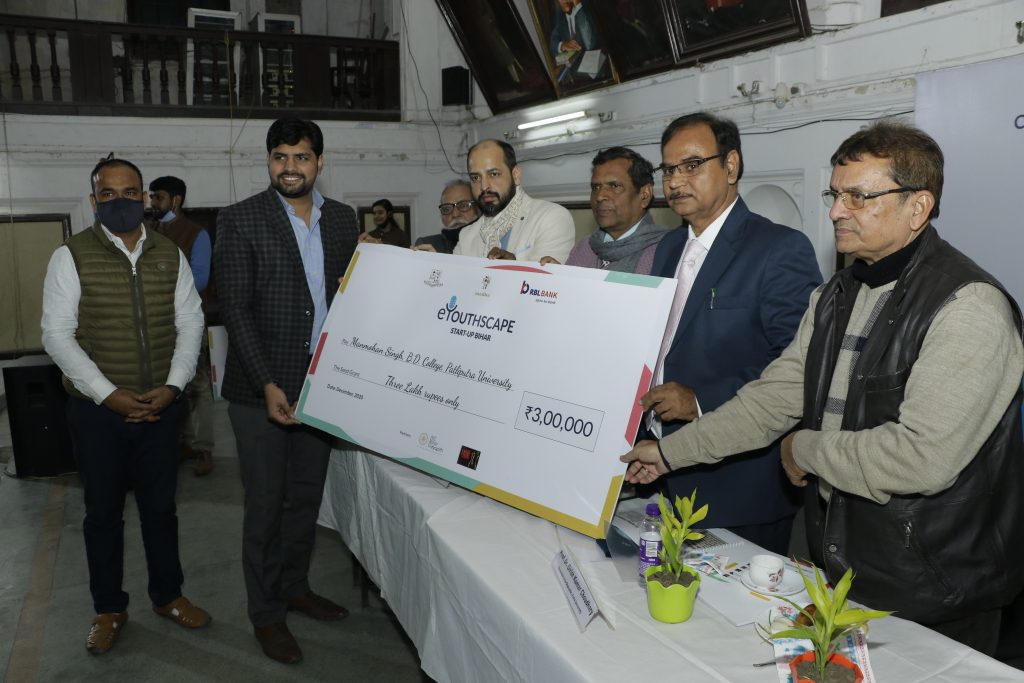 Delivering farm-fresh products to your doorstep
Adarsh Kumar Mishra, the first runner-up, lives in Patna and is a second-year student at Patna College. He participated in eYouthscape with a business plan to start a food delivery service in Patna. Currently, Adarsh delivers fresh meat and some vegetables to customers at their doorstep. He started this initiative in partnership with two friends and has been providing this service for the last three months. He has partnerships with local vendors and small dedicated teams responsible for delivery and marketing. Adarsh aspires to offer more farm-fresh products to his customers in the future and has already invested in listing his venture on an e-commerce website.​
Using technology to provide cost-effective services to car owners
Abhas, the second runner-up, is a Computer Science dropout and is currently pursuing a degree from IGNOU. His father runs a local grocery store in Bairiyan, Patna. ​Abhas's idea was to develop an app for car owners, which will compare the services and prices of different garages in the vicinity. His goal is to connect car owners with a skilled and cost-effective workforce through the app.​ Abhas has invested in market research and web development. He has already conducted a needs assessment study in Gurugram and Patna and has also developed a website.​ His plans include adding an insurance comparison feature to the app and building it into a trusted platform for the customers.
The overwhelmingly positive response from students has only motivated us to conduct similar competitions in the future and encourage youth across Uttar Pradesh, Bihar, and Haryana to explore and strengthen their entrepreneurial capabilities in diverse sectors. We are looking forward to organizing the next competition in the eYouthscape series!